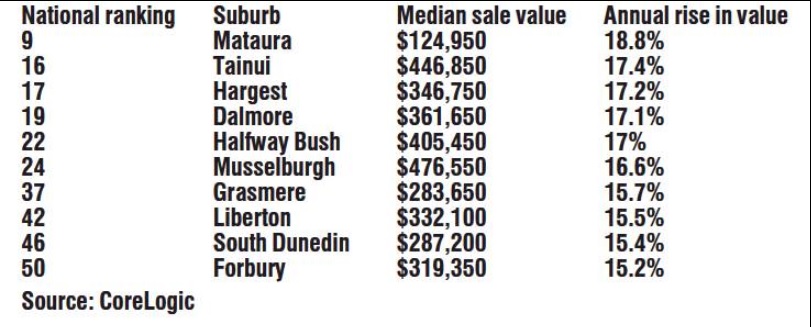 Dunedin is in the vanguard of a surging southern property prices, a new survey has confirmed.
Property analysis firm CoreLogic has assessed the 50 suburbs/areas nationwide with the fastest-rising values
Ten of those locations were south of the Waitaki - seven in Dunedin and three in Southland.
Mataura ranked ninth in the list, with an annual increase in property prices of 18.8%.
However, the Southland town's median sales value of $124,950 was the lowest in the top 50.
Dunedin's strong showing came as no surprise to local real estate agents.
"It is a hard statistic, as sometimes there are not a lot of sales in those suburbs and the result can be a bit distorted, but there have definitely been some good increases,'' John Cutler, of Cutlers Ltd, said.
Dunedin entrants in the list were not traditional dress circle suburbs like St Clair or Maori Hill or investor targets such as the university area.
Rather, areas like Tainui, Halfway Bush and Musselburgh were excelling.
"Those big increases are all being driven by first-home buyers,'' Mr Cutler said.
"That has been the biggest area of interest.''
LJ Hooker Dunedin sales manager Conrad Stedman said the suburbs which featured in the CoreLogic list were popular and many were attractive to buyers new to Dunedin.
"If they are coming from Auckland for example, those areas are not too expensive compared to what they are able to spend.''
REINZ data from March showed three regions with record median prices, which included Southland (up 25% to $300,000, from $240,000 a year ago) and Otago (up 21.6% to $492,000, from $404,500).
The institute attributed much of that increase to a lack of listings, a trend which Mr Cutler said was still very much the case.
"That hasn't changed, things are as tight as they have been for a long time ... things will have to ease off at some stage but at the moment it is still very much a seller's market.''
Mr Stedman said demand, especially from investors, had cooled a little while the Government was considering introducing a capital gains tax, but that sector of the market had now picked up.
Combined with strong demand from first home buyers, prices were likely to be healthy for some time to come.
"We are struggling to get listings for that first time buyer market which puts pressure on those buyers ... I guess the news about prices is good for sellers but it does put pressure on buyers and also on the rental market, as it may lead to rent increases as well.
CoreLogic also assessed the 50 bottom performing suburbs.
All bar one of those were in Auckland, where median house prices have recently dropped markedly.
No southern suburbs featured on a supplementary list which excluded Auckland, but many Christchurch suburbs did appear in it.
Source: ODT